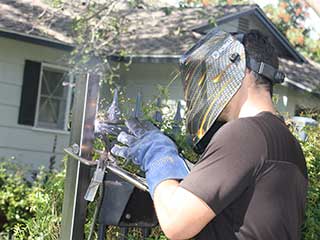 Some homeowners want their front gates to look fantastic above all else, some prioritize the way they work and how convenient they are, and some simply want a system that needs as little maintenance as possible. It might not be possible to build a gate that never needs to have any work done, but it is possible to minimize the amount of maintenance it will need over time.
The Benefits Of Aluminum
If you live near the ocean or have front lawn sprinklers that reach your gate, you might be experiencing rapid corrosion in a relatively short period of time. Having a gate that is as corrosion resistant as possible will help massively. Aluminum, stainless steel and plastic are material options that will best resist constant moisture.
The Durability Of Steel
If you have had more than one accident in the past or if you believe your gate needs to be as durable as possible. In that case, it can be hard to beat the endurance of a galvanized steel gate. The thicker the better. Thin sheets of steel will corrode relatively easily compared to very thick hot-dipped galvanized steel parts, so the zinc-coating is important if you want it to be not only durable but also long-lasting.
The Classic Look Of Wood
A wooden gate will be very beautiful and add a lot of curb appeal to your property, but it will also require more frequent maintenance. Temperature and climate changes will force the wood to expand or contract, and moisture exposure can cause it to develop mold and even rot. Regular repainting can help protect it from the elements, but you will still need to have it checked regularly.
Professional Gate Repair Services
Regardless of which material your gate is made of, there are all sorts of issues that can affect its performance. Our technicians can fix anything from track to opener related problems, and ensure that the malfunctions are dealt with both quickly and safely. Contact our team at Garage Door Repair Irving and let our experts help you with whatever you need.
Give our team a call if you need help with:

Gate Hinge Repair

FAAC Gate Opener

Solid Sliding Gates

Aiphone Gate Intercoms