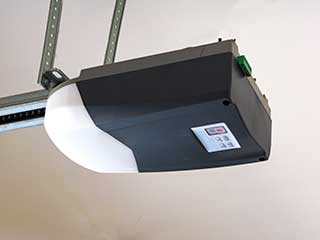 Has your garage door become slow, unreliable or noisy? A common cause of these problems is the opener - when this component starts to wear out, it can cause a number of different problems. Over time minor faults can get worse, with the potential for wearing out more and more parts of the system. If you're experiencing unpredictable overhead door behavior, we strongly recommend contacting our team for assistance.
Maintaining Your Opener
Your opener doesn't have an easy job. It's partly responsible for lifting and lowering a door that often weighs more than 150 pounds. This can put a lot of strain on the system, causing parts to wear out more quickly than you might have imagined. Even a small build-up of dust or dirt can cause enough additional friction to wear down vital components. For this reason, it's vital to schedule regular maintenance appointments with our team. This will give us an opportunity to identify any potential opener related areas where a breakdown is likely; worn-out drive gears, corroded trolley systems and so on.
Fast And Effective Repairs
Openers can break down for many different reasons. A common problem with older systems, for instance is a failure of the circuit board. Problems with this component can be very hard to identify, since they're often intermittent and result in strange behavior. The only solution is to replace the board with a new one. Thanks to our team's many years of experience, we can work with many older units and will do our best to bring your home's opener back to proper working condition.
When It's Time To Upgrade
Sometimes the best solution is to invest in a new opener altogether - the enhanced security and convenience this brings will be a welcome thing for any garage. We'll help you select the correct power of drive for your home, alongside the right drive type and any additional features you require. When you're ready, we'll install it to our rigorous professional standards.
Contact Our Team Today
We know how difficult it can be to deal with a slow, unresponsive or just plain noisy opener. If you're experiencing problems, don't hesitate to get in touch with Garage Door Repair Irving – just give us a call to learn more about the ways we can help you!
In addition, count on us for:

Garage Door Tune Up Services

24 Hour Garage Door Service

Garage Door Transmitter Repair

Garage Door Remote Clickers